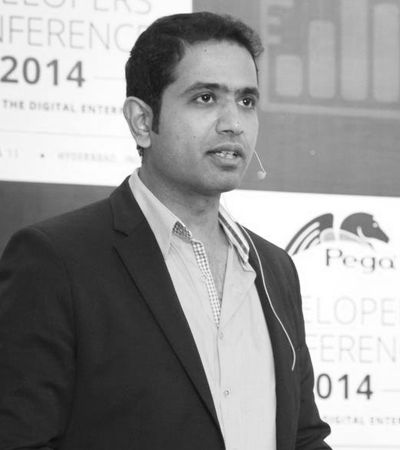 Suman Reddy Eadunuri
Managing Director – Pegasystems India
Building for change' is a phrase that defines Suman Reddy, Managing Director, Pegasystems India, which is also the core objective of the organization. Mr. Reddy's dynamic & collaborative leadership style has propelled Pegasystems India become not just a key innovation centre that drives digital change across the world's largest organizations, but a major technology player in the regional economy. Having worked with Fortune 500 companies across the North American market, Mr. Reddy has led large technology teams to build state-of-the-art enterprise systems for more than two decades. Currently, he is helping organizations stay at the forefront of the digital economy, leveraging his deep understanding and expertise of cutting-edge technology in building world-class R&D centers. Mr. Reddy holds an MBA from Kellogg School of Management, and a master's degree in Computer Science from Northern Illinois University.
Besides being a recognized thought leader in the software industry, Mr. Reddy is well heralded in the government and media domains too. He is an active part of premier industry bodies, national forums, and leadership clubs across India and beyond, like NASSCOM, CII, HYSEA, YPO, and TiE, and is regularly quoted as a representative of the regional tech space. He has spoken on key topics and is regularly invited for speaking opportunities. Additionally, Mr. Reddy is a much sought after thought leader at premier techno-economic panels, with the recent one being the CII Union Budget Policy Session 2016.
Further, the Telangana government's goal of job creation has seen welcome support through Mr. Reddy leading a significant workforce. Mr.Reddy led the unprecedented growth of the Pega ecosystem, from 1,500 to 20,000 across India, with Hyderabad capturing the lion's share of the job creation. In addition to collaborating with large system integrators like Accenture, Capgemini, Cognizant, Wipro, Virtusa, Infosys, and TCS and helping them grow their Pega practices, Mr. Reddy also works closely with many of Fortune 500 companies to expand their operations in Hyderabad. Through the firm belief of leaders like Mr. Reddy, multi-million dollar events like Pega Developer Conferences(2013 & 2014 editions), were conducted in the city, retaining the brand image of Hyderabad during the peak of the Telangana turmoil.
One of Mr. Reddy's philosophies is giving back to society, and he has proactively worked towards the cause of supporting organizations making a difference in the lives of the underprivileged. Under his auspices, Kriti, Udayan Shalini, Mahima Ministry, Thakur Hariprasad Institute for Mentally challenged & LSN Foundation receive generous support. Also, initiatives like mid-day meal programs, computer/English education at Sri Vivekananda Educational Society, Chennai flood support & book distribution at the Aradhana Home are taken up by Mr. Reddy and his team, to further his vision of a holistically developed society.