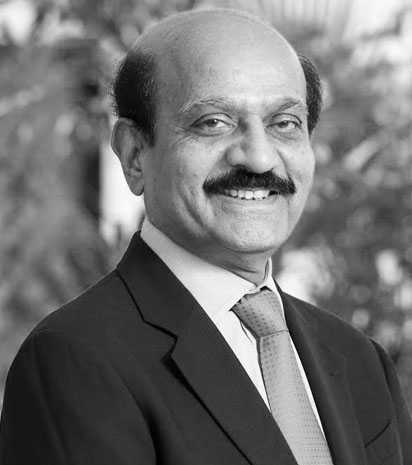 BVR Mohan Reddy
Ex-Chairman Nasscom
Executive Chairman Cyient
Ex-Board member HA
Saranam Ventures invests into early stage startups at seed stage or pre series A stage. Saranam Ventures has invested into 15 startups during last few years. The focus area has been Health Tech, Enterprise Tech, Fin Tech, Green Tech and Consumer Tech. Saranam Ventures is looking for investments in the area of IoT, Data Analytics, AR/VR, Technology SAAS models, Cloud based services, Digital Platforms, and Sustainable Social Ventures.
BVR Mohan Reddy
Saranam Ventures is promoted by Mr. BVR Mohan Reddy, Founder & Executive chairman of Cyient Ltd. Having established Cyient (formerly Infotech Enterprises) in 1991, Mohan Reddy pioneered computer-aided design/computer-aided manufacturing (CAD/CAM) solutions serving international clients. Cyient is consistently ranked among the top 15 IT services exporters from India .  Cyient is also the largest independent exporter of high value research and development (R&D) services from India .  7 of the top 10 global aerospace companies, 5 of the top 5 global rail companies, 2 of the top 5 global semiconductor companies, 7 of the top 10 heavy equipment companies are Cyient's customers. Today, Cyient has revenues of around US$ 550 million. Cyient has generated cumulative export revenue of US$ 2 billion. Cyient employs approximately 14,000 engineers across 38 locations globally.
Mr. Mohan Reddy has been an industry voice and has been representing the industry concerns and challenges at various forums. He has served as Chairman, NASSCOM (The National Association of Software and Services Companies) during 2015-16 and has chaired the Engineering Services Forum of NASSCOM. He also serves as Honorary Consul of Federal Republic of Germany for states of Telangana and Andhra Pradesh and is the second Indian to receive this honour from the German Government.  Mohan Reddy has immense passion towards promoting education in India.  Towards this, he also serves as Chairman, Board of Governors, IIT, Hyderabad since 2012. He has also been appointed as a Director on the Board of National Skill Development Corporation (NSDC) and is member on the Board of NIIT University, Neemrana. Mohan Reddy is also a Founding Director of T-Hub, the largest incubation centre in India for start-ups by Government of Telangana and the founding director of Hyderabad Angels.
Mohan Reddy has been bestowed with multiple awards and recognitions. Mohan Reddy has been recently awarded Padma Shri by the Government of India for his contribution to Trade and Industry category in 2017. He was conferred the Lifetime Achievement Award by Hyderabad Management Association (HMA) in 2016. He was the first Indian and seventh globally to receive the prestigious ASME (American Society of Mechanical Engineers) Leadership Award in 2011 for outstanding leadership in advancing the use of computers in information engineering.  In 2012, under his leadership, Cyient received Corporate Excellence Award from IACC (Indo American Chamber of Commerce) as the Best Indian Company Operating in the US under the Technology & Communications Category. He received "Distinguished Alumnus Award" by IIT, Kanpur and has been felicitated as "Distinguished Scientist" by AP Science Congress 2010.
Mohan Reddy holds a graduate degree in mechanical engineering from the College of Engineering, Kakinada, India. He did his post-graduation from the IIT, Kanpur and the University of Michigan, ANN Arbor, USA. Mohan Reddy was conferred an honorary doctorate by the Jawaharlal Nehru Technological University, Hyderabad, Honorary D. Sc. from the Andhra University, Vishakapatnam, and Doctor of Science Honoris Causa from KL University, Vijayawada.
What do I look for in founders and companies before investing
At early stage we are basically looking for a good team with sustainable business model. We would like to see serious founders who have experience of atleast 10+ years in the area of their startup or technology. We would like to see clear roles and responsibilities allocation to each co-founders and few paying customers to verify the feasibility and strength of the business model.
One of the key element that we keenly observe in the startups is their thoughts on Values & Ethics. We would like the startups to follow all the laws of the land and create a business within the framework of the government policy and regulation. We feel that a sustainable organization can only be built with the right values and ethics and we would like to see the same in the promoters thoughts and ideas.
Area of interest
While there are enormous growth potential for Indian startups in almost every industry, we are primarily focusing on following sectors: Health Tech, Enterprise Tech, Fin Tech, Consumer Tech and Green Tech. We are looking for startups which are either creator of a new technology or are extensive user of technology in creating a sustainable value proposition to the customer.
Bhanu Rekha Maturi
BhanuRekha Maturi is a media, marketing communications, market intelligence and business development professional with 20 years of top-of-the-line experience in India and the US. She is currently managing the home office investments of Dr. BVR Mohan Reddy, Executive Chairman-Cyient, along with other priority initiatives in Chairman's Office.
In her previous assignment, BhanuRekha worked as the Vice President & Managing Editor for Geospatial Media and Communications and has been instrumental in launching the company's US operations from their Virginia office. She has a penchant for learning, thrives in challenging situations, has the ability to build and lead successful teams. She is an alumnus of the University of Hyderabad and IIM Bangalore.
When she is not at work, BhanuRekha dons the role of a social change agent. She is part of a movement for "peace, education and cultural exchange" through Soka Gakkai International (SGI), a non-government organization with official ties with the United Nations. With a conviction that respect for human dignity is the basis for changing the society, she engages in one-on-one dialogue with people from various disciplines.